Case Study : Kiosk Application Development For Education Industry
Way Finder – Kiosk enhances location tracking and navigation experiences.
---
What was the client expecting from Perception System?
The client was a world-famous institute named Gujarat Vidhyapith. We already had developed the 2D Way Finder kiosks before two years, which were functioning at the main and departmental entrances of the education campus. Mainly kiosks located within waiting area for the external visitor. In old kiosks, 2D Map loaded with 2D features. Recently, we had demonstrated the updated technologies with 3D Maps and 3D features for new 3D Way Finder to enhance the user experiences at a new level.
How did Perception System evaluate the client's needs?
We personally visited the premise of client and inspected the lacunae of existing old 2D kiosks. Our team has run a guerilla survey of the top level management team, working staff, and some visitors there. After a brief analysis, we have presented a roadmap for the inclusion of following features and functionality.
Features:
3D Rendered Map with 3D objects, street view, and direction with exclusive 3D experiences.

Users can view the same path in 2D as well as 3D street views.

2D and 3D floor maps for interior navigation.

Comprehensive navigation with prominent buttons and standard UI elements.

Support for local languages renders it multilingual software.
Functionality:
The user can know the present location.

Search by the name of place/department.

Search by person's name.

Users can view different departments of each floor.

Users can view events and promotional banners in the kiosk.
Genuine Approaches Taken by Team of Kiosk Developers at Perception System
The client selected Perception System as its standalone software development partner considering it as an established and impeccable team of software developers with the rich and successful portfolio. Our software development team applied standard research and analysis strategies and methodologies to deal with the software design and development project for kiosks.
Analysis
Kiosk development project was specifically for an education campus with a large premise consists of numeral buildings with multiple floors. All buildings allocated to different departments with offices and classrooms. We have found out exact needs of client-side by running a guerrilla UX survey and applied the latest research and analysis methods to turn requirements into technical modules.
Project Planning
Based on finding in research and analysis, we have prepared project development plans in co-ordination with software and hardware teams.
Project architecture
Software architectures at Perception System have defined the hardware and software architecture for the way finder kiosk at Gujarat Vidhyapith education campus.
Wireframe & Prototypes
Based on software design and development plans as well as architecture, our software designers have prepared wireframes and prototypes with all possible options. We handover interactive prototypes of kiosk software to the client-side team for final approval.
Designing & Programming
After getting a final node of approval from the client for prototypes, we have started final designing of the interface, UI elements, and various modules with required coding for interactions and integrations. We tested the modules on each stage and completion of each milestone.
Deployment
After successful testing in the lab, we have deployed the kiosk software, and hardware integrations carried out at education campus of the client. We have demonstrated the features and functionality to the staff at the campus as well as a few selected visitors to know their final feedback.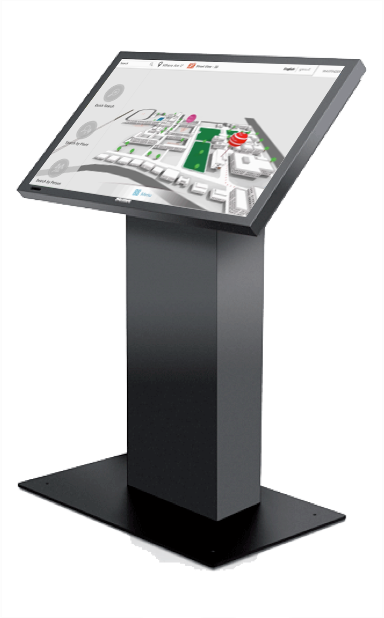 How We Reached the Viable Solution for Way Finder Kiosks?
Our Journey towards the end-to-end Solution was fascinating enough due to the large size of the campus and involvement of numerous departments as well as heading persons. Creating 3D experiences was a big challenge, and we accomplished beautifully with following noted points.
Going from 2D to 3D
By replacing 2d Map with 3D Map API, we uplifted user experiences with kiosks one-level up.
3D Street View
Kiosks are now displaying street views in 3D modeling giving real-life simulation using 3D Map API integration.
Back-End Administrative controls
Administrative portal to quickly make on the fly updates to any of the interactive pages that are readily viewed, along with updating the teaching staff info and be able to push engaging content of events with successful interface solution.
Search by the name of Persons
The same search experiences extended for a person's name or the name of the head of departments in charge.
3D Floor View
Similar to 3D street view, we have made extra efforts to provide digitally rendered 3D floor plans with 3D models of each floor annotated with office/classroom tags.
Events & Promotions
We created additional modules in kiosk software to display various upcoming or ongoing events to acknowledge visitors. Moreover, room for promotional banners won the heart of management.
Support & Maintenance
We committed long-term support and maintenance with a feasible plan sign up by the client.
Striking Features Included in Way Finder Kiosk Solution
3D Map
3D interactive Map with 3D objects and paths.
3D Street View
3D street view with real-world simulation for direction and path.
3D Floor View
3D floors with objects and tags to provide detailed information.
Search by Department
The user can enter the name of the department and know the exact direction from the present location to the destination.
Search by Person
The user can enter the name of the head of the department or listed person to know path and destination location from the current location.
Banners for Events & Promotions
Modules for banners and events to acknowledge the users regarding various events and news along with historical video playing at the ideal time.
Technologies We Used in Kiosk Development
We applied the following technologies, frameworks, and tools to meet client expectations.
Milestones and deliverables
Kiosk is in daily practical use recording every single tap and showing multi-floor & multi-building directions calculated with wayfinding algorithm that generates guidelines based on shortest path and ease of accessibility.
Achievements
This all-in-one solution delivers ultimate flexibility and control to visually relieve the directional hindrance of visitors, guests and new students.
Satisfaction
The client-side team expressed full gratification over the performance of way finder kiosks in their campus. We extended our helping hands for the support and maintenance.
Client's Feedback
"Awesome 3D views of building, streets, and floors are inspiring our visitors to use kiosks willingly & frequently. We already have used the team of Perception System to develop 2D kiosks before. Therefore, advancing from 2D to the 3D project was smooth going for us. They had uplifted total user experiences at new highs and increased the flow of visitors and their experiences significantly. They have provided the progress report regularly and attended all prescribed changes seriously."