Perceptions System houses a 24×7 available team of mobile app developers who are trained to embrace all major mobile development platforms and technologies. Our team members are highly skilled developers to work dedicatedly on your project have fluent communication skills with the ability to understand latest development trends. Maintaining high level confidentiality, uninterred client interaction and short turn (around)out time have always been a strong point of our app developers.
Experienced dedicated programmers with back-end development expertise on various development platform of your choice make us best mobile application development company for hire. extends the capability of their device and make their regular work a lot easier.Fundamentally investments would be 30% to 60% less as competing with the project outsourcing and in-house development adding the advantage of no company and tax expenditures.
Leverage the benefit of iOS platform in cost-effective ways and in favor of your business. Our trained and qualified iOS development team masters the key Apple languages like Objective C, Swift & Apple script towards developing and polishing your products bringing utmost client satisfaction. Learn more…
Android Apps
Android Apps
Yield great business advantages with our skilled Android application developers having hands-on experience in developing Android based mobile application. Our vast work portfolio portrays our methodological approach towards developing and polishing your product using elements like Android Studio, Beacons, Open CV, JNI, XMPP, Socket etc. Learn more…
Xamarin Apps
Xamarin Apps
Bring your idea to life without vexing about cross platforms by hiring our Xamarin Specialist having specialized experience on Xamarin tools and techniques. Our matured Xamarin developers also familiar with .NET framework employing Xamarin Studio, Test Cloud, MVVMCROSS, Xamarin forms etc. for different platforms and cross-device ranges. Learn more…
Phonegap Services
Phonegap
Services
Unlock the hidden potential of your business through cross-platform innovation by recruiting dedicated PhoneGap developer to craft a complete solution. Instead of clattering through the selection of technologies, we build the best-practiced PhoneGap solution that enables you to reach a wider audience with different OS and devices. Learn more…
Flexible and Personalized Engagement models
We do not have fixed hiring models for our client rather we help everyone in a personalized way to suit their requirement perfectly – for any time and for any term and for anywhere. Let it be any size of project small or sizable or may it be just your vision, you can hire developers at the highly affordable price from start till deployment. You can enjoy dedicated development at a variable working hour per week to suit your project needs perfectly.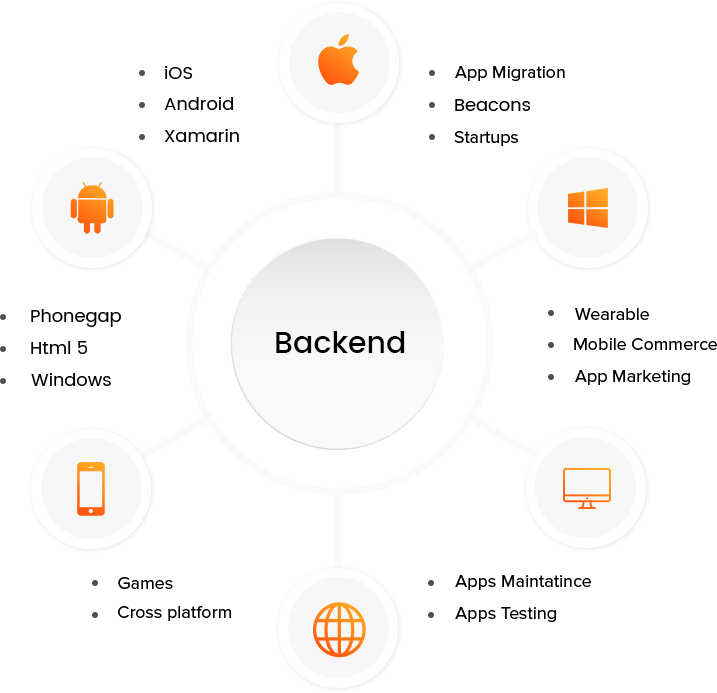 Have your own Team for Different Platform and Services
Have you got the next billion dollar app idea – maybe the next Amazon or Makemytrip?
Bring your idea to life compelling and memorable solutions without worrying about mobile platforms by hiring our mobile App Development Specialist equipped with specialized working experience on powerful development tools and techniques.
Our dedicated mobile App developers utilize robust and reliable technology on multiple platforms to validate the feasibility of your app idea and creates mobile applications that bring your mobile enterprise innovation to life.
Expertise and Responsibilities of
mobile development team
Team

Flexibility and Control

All our experts hired by clients sitting under one roof and mobile application user interface design and other creative work can

Message

Strong Leadership to Manage

A dedicated project manager can manage the process or you as a client can manage it via skype or email etc.

Location

100% Customer Experience

At anytime you may have source code access and all the rights of the source code will be owned by you with full knowledge transfer and training.
Our team gives details estimation showing each functional area and number of days it will take to develop and design and QA.
Agile team player & disciplined
Automated UI Testing
Fluent English Proficiency
Unit Testing
White box testing & code review
Root cause analysis
Project prototyping
Working with third party APIs
Familiar with tools like Slack and Jira
UX implementation
Expertise to create SDK
Writing user stories / documentation
Quick status update and Weekly reporting
Flexible timings as per your office hours
Adhere to deadlines
Highly-Skilled and certified resources
GIT and subversion (version control)
3 to 5 years experienced developers
Case Study
Callcorder Pro
A simple one tap app to record any incoming & outgoing phone call. Easy to record any important call, conferences and convention without any difficult registration process. Fairly simple to make international calls to US, Canada & india.
Features
Record unlimited phone calls
Record incoming and outgoing calls.
High quality audio
Email recording
It will not drain your wifi or 3G data unlike other call recording apps.
transfer recordings (mp3) to computer.
sync on dropbox.
3d touch from App icon
Pay as you need.
Free of Cost Management Services
We take care of the true-cost of hiring an expert with below mentioned services while you just pay for developers working hours with absolutely no hidden costs
Group
Dedicated development team Start assistance –
Ensures efficient ramp-up and quick time to market
web
Full Infrastructure with standard workstation –
Basic software, Internet and other basic Messaging
services like mail, docs, chat, calendar and apps etc
profile
Developer's Evaluation –
Evaluates Project scope, technical functionality
requirement and recommend expert developer
monitoring
Monitoring of team performance –
Proactively identify areas where things can be improved
building
Modern office space –
Located in the downtown area with full administration and office management
web
Ad-hoc HR support –
Handle legal issues, conduct developer interviews,
social & team building activities
Process
Process consulting –
Technical consulting, best practices knowledge sharing
retention
Retention and Quality Policy —
Coaching individuals and teams, semi-annual performance evaluation and code quality review meetings
building
Technical Support –
Provide technology consulting, promptly resolve technical issues, regular updates about the project till the execution
Hire the Best with Ease
You are just one step away from hiring our world class developers either operate onsite at your office location or work offshore from our development center.